ICD-10 Clinical Modification: an interview with Dr. Jon Elion, Founder, ChartWise Medical Systems
Apr 29, 2015 | VIA BLOG | Posted 10:06 PM by Dr. Jon Elion
ICD-10 is the tenth revision to the World Health Organization's (WHO) International Classification of Diseases. ICD-10, like its predecessor, ICD-9, is based on a set of unique alphanumeric codes to identify known diseases and other health problems.
These codes are used by physicians, nurses, other providers, researchers, health information professionals, coders and others to record patient data.
ICD-9-CM contains 13,000 3-5-character alphanumeric diagnosis codes with 855 code categories.  ICD-10-CM contains 68,000 3-7-character alphanumeric diagnosis codes with 2,033 code categories.
There are an additional 76,000 procedure codes contained in ICD-10 PCS (not used in countries other than the U.S.).

How long did it take to create a modified version for the US?
Work began on ICD-10 in 1983 and was competed in 1992. The WHO adopted ICD-10 in 1994 and the ICD-10-CM version was drafted the following year in 1995.
The Clinical Modification is only used in the United States, and has been approved by the four cooperating organizations for ICD-10-CM: American Hospital Association (AHA), American Health Information management Association (AHIMA), Centers for Medicare and Medicaid Services (CMS) and the National Center for Health Statistics (NCHS).
Why did the process take such a long time?
ICD-10 is used to code and classify mortality data, and is not sufficient to describe illnesses (morbidity). The process to add these specifications are extensive and involve comprehensive collaborations among the participating parties.
The ICD-10 version of the Clinical Modifications represent a significant improvement and expansion over those specified for ICD-9 CM and for ICD-10.
There is more information relevant to the ambulatory setting and managed care encounters, more injury codes, and greater specificity in code assignments (for example, "laterality").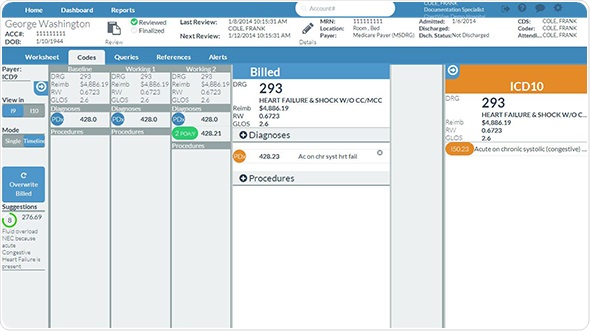 When is ICD-11 due to be released and how long do you think it will take to establish a modified version for the US?
ICD-11 has been in development since 2007, and represents an exciting advancement in the basic structure of the coding system. It has been released in beta format already, is expected to be completed by the World Health Organization in 2017.
Once again we can expect a difference in implementation, depending on its intended use (just for mortality data, or to incorporate morbidity and clinical data as well). The US will require extensive quality assurance review and testing in a variety of healthcare settings.
Since ICD-11 is inherently more complete, a separate CM version may not be needed (the ICD-10-CM terms are already being added to ICD-11). Many believe ICD-11 won't be ready for US adoption until around 2023 or later.
Why did you create ChartWise?
I created ChartWise Medical Systems because I saw a need in the market for a Computer-Assisted Clinical Documentation Improvement tool that went far beyond coding, and that would be of benefit to other health information professionals, physicians, hospital administrators and hospital leadership.
ChartWise was designed to improve precision in quality clinical documentation to support case management, quality improvement, and revenue assurance.
ChartWise looks beyond reimbursement to ensure its users get the correct level of reimbursement.
If a hospital bills for too much and receives an inflated reimbursement, a RAC audit will almost assuredly be taking that revenue back in short order.
ChartWise was created to provide a valuable tool to improve efficiencies and completeness of documentation, queries and work flow.
Could you please outline ChartWise's Computer-Assisted Clinical Documentation Improvement (CACDI) software system?
The ChartWise Medical Systems ChartWise 2.0 software is a web-based solution for Computer-Assisted Clinical Documentation Improvement.  ChartWise 2.0's built-in clinical expertise assists physicians and clinical documentation specialists with identifying opportunities to increase the completeness and precision of clinical documentation, while managing the communications and work flow needed to do this.
ChartWise 2.0 is the only documentation software that translates clinical language used by physicians into accurate diagnostic language required for documentation and reimbursement.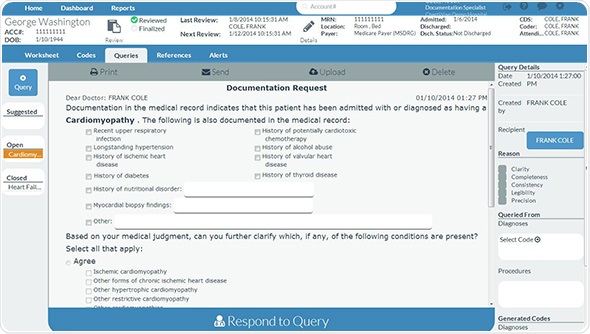 How does ChartWise 2.0 differ from ChartWise:CDI and how do you plan to adapt the software going forwards?
ChartWise 2.0 represents a significant advance in clinical and coding knowledge, and has enhanced support to assist with the transition to ICD-10.
One of the key enhancements is the the dual query and dual CDI functionality which supports both ICD-9 and ICD-10. This allows users to bypass time consuming and cumbersome double coding and double queries. ChartWise 2.0 requires only one query to be sent or one code to be entered to see results recorded in both code sets simultaneously.
Furthermore, ChartWise 2.0 also enables users to work in the current ICD-9 coding system while concurrently viewing results in the ICD-10 format. This cross functionality between ICD-9 and ICD-10 will also work in reverse, allowing the user to work in ICD-10 and view corresponding ICD-9 codes. By providing both the ICD-9 and ICD-10 coding systems simultaneously, ChartWise helps to increase familiarity and ease the transition between these two coding structures.
ChartWise 2.0 also improves upon the foundation set with ChartWise:CDI with an assortment of additional new features and enhancements. An advanced user interface provides specialists the tools to do their jobs efficiently and accurately, and have the biggest impact on quality data and proper reimbursement.
We now re-analyze each hospital's data every ten minutes, looking for metrics that may have fallen out of range or that require action. The system includes reporting and management dashboards that let the user dig deeper into data and view real-time information on demand to manage their CDI program.
Alerts have the built-in functionality that can notify Case Management and Quality teams within minutes of key events being detected. For example, when a patient is admitted with a particular diagnosis, an alert enables them to mobilize resources and ensure quality measures are taken.
ChartWise 2.0 is the first CDI software program created with built-in clinical intelligence, providing tools to assimilate a complete diagnostic snapshot. The software adapts to the user's paper-based or electronic workflow, contains completely secure, fully encrypted patient database capabilities and includes HL7 interfaces to reduce manual data entry and improve data quality.
Finally, ChartWise 2.0 includes the built-in TruCode Essentials encoder with a complete library of coding references.
What do you think the future holds for ICD-10-CM and ICD-11?
ICD-10 CM is a vast improvement upon ICD-9 and provides much-needed additional coding specificity. The US will likely get at least a decade with the ICD-10-CM coding set before ICD-11 is seriously considered for adoption. However, that's looking at things optimistically.
ICD-10-CM has been available for 20 years now and we still haven't made the transition. Hopefully, hospitals and vendors will have learned something from the ICD-10 transition that will facilitate adoption of future code sets such as ICD-11.
Where can readers find more information?
Readers can find more information about ChartWise, its software and the tools necessary to be prepared for the ICD-10 transition at http://www.chartwisemed.com/.
For more in depth information on the International Classification of Diseases, please visithttp://www.who.int/classifications/icd/en/.